Understanding Presentation Software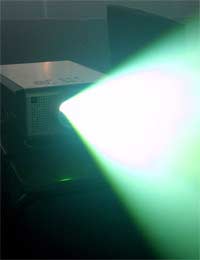 With Microsoft's PowerPoint leading the charge, presentation software has completely redefined the way work public speaking is carried out.
PowerPoint Domination
When most people think of presentation software they think of Microsoft's PowerPoint. And it's hardly surprising considering it controls 95% of the presentation software market and an estimated 30 million presentations are delivered using PowerPoint every single day.
When Microsoft snapped up the rights to PowerPoint in 1987 they took a modest black and white Mac-only programme and turned it into the most "pervasive and ubiquitous business tool ever invented", according to the Guardian.
Inside the PowerPoint Packages
The big draw of the programme was that it allowed users to put on professional looking presentations with relative ease. So instead of struggling to get your message across whilst juggling umpteen slides, a stack of handouts, and temperamental overhead projector, a simple computer presentation could be prepared that would showcase all your visual aids at the touch of a button and leave you to concentrate on the already formidable job of communicating with your audience.
In addition to its own custom graphics and pre-designed 'clip art' images, PowerPoint has developed to enable users to add their own particular stamp on a slide show presentation. For instance, designs created with Adobe Photoshop and Adobe Illustrator can be imported as well as digital photographs, flash animations, video and even music.
Packages of Pre-Ordained Ideas
PowerPoint has certainly revolutionised the way we conduct presentations but its methods have not been wholly appreciated. Technology commentator Michael Bywater's description of it as, "the most loathsome, vicious and immoral piece of software ever produced" was triggered by common criticism about the way PowerPoint edits ideas.
It may help you put forward your case but in dictating how you organise your information, how much you use and how you think about your subject, it is at the same time presenting its own case. The introduction of the AutoContent Wizard has taken this a step further by supplying templates that are effectively readymade presentations complete with their own opinions on how we should think.
Dangers of Presentation Software
Slide presentation programmes on the whole have also been criticised for the way they allow those uncomfortable with public speaking to hide behind the technology and distance themselves from the audience. Instead of interacting with attendees and leading the presentation, it's easy to stand back and let the computer programme and its array of bullet points take over.
Enthusiasm for PowerPoint's limited 'cookie-cutter' model has been on the wane for many years, and is now better known for putting audiences to sleep than sparking their interest. However, it's not that PowerPoint doesn't offer the facility for creating more individual and exciting presentations, it's just that the more advanced design options are too technical and time costly for the average user.
Apple has chipped away at the overwhelming dominance of PowerPoint by allowing users of its presentation programme Keynote to create better designed presentations easier. Also in keeping with the digital corporation's commitment to innovative design, Keynote is a step beyond PowerPoint in terms of the quality of animation, text and graphics it offers.
Presentations in the Virtual World
Presentations are now starting to move beyond the confines of the lecture theatre and into the virtual realm. WebEx and Microsoft's Livemeeting, for instance, are hosted web conferencing services that allow users to interact in a virtual space on the web, whether for meetings, tutorials, design workshops or presentations.
In this virtual room, presenters can show their slides to potentially hundreds of people around the world, and as they are not physically there with them they don't have to worry about stage fright. However, the danger of this is that not only can the less engaged presenters further distance themselves from their audience but the audience can even easier disengage from the presentation.
Ultimately however advanced the software becomes it should only be used to supplement a well thought out spoken word presentation that directly interacts with an audience and not used as a flashy way to disguise the absence of one.
You might also like...