Understanding Harassment in the Workplace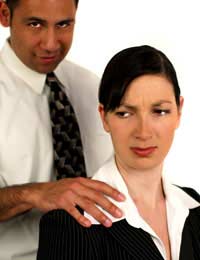 Harassment is a scourge of the work environment that goes against the principle of every employee being treated with respect and dignity, but how can you define and recognise workplace harassment?
What is Harassment?
Harassment at work can be defined as demeaning and unacceptable behaviour towards a particular employee, which could relate to that person's sex (both gender and sexual harassment), age, race, disability, religion, nationality or a personal characteristic. Harassment at work is most commonly associated with racism and sexual harassment towards minority groups and women respectively.
The Damaging Effects of Harassment
The effects of harassment and bullying can affect people in a variety of different ways depending on the character of that person and the intensity and persistence of the abuse. Whereas some people might be provoked into retaliating in some way, others withdraw within themselves, feeling frightened, de-motivated and unable to cope. It can make people feel anxious and humiliated, it can lead to stress, lost of self-confidence and ultimately - if not dealt with properly - in illness, work absence, job insecurity and even resignation.
Harassment is a scourge of the workplace because it will not only create an intimidating and hostile environment for the victimised member of staff but if allowed to thrive it can prove damaging to the morale, relations and performance of the whole workplace.
The Many Guises of Harassment
Harassment at work can be deliberate and conscious, but it can also be completely unintentional, with the perpetrator unaware of the affects of their actions. Although often related to an overt and blatant abuse of power, it can also appear in more subtle and underhand guises making it difficult for observers to recognise.
As a guideline, behaviour that could be classed as harassment at work could include:
Spreading malicious rumours or gossip about an employee.
Insulting someone by word or behaviour (particularly if it relates to their age, race, sex etc).
Unfair exclusion.
Overbearing supervision.
Victimisation.
Physical combat.
Deliberately undermining an employee with excessive criticism.
Deliberately preventing an employee get a job promotion or training.
Shouting at someone.
Sexual propositioning or innuendo.
Harassment and bullying don't even need to be face to face. They could occur in letters or emails, or over the phone.
The Problems of Defining and Recognising Harassment at Work
With so many different actions potentially constituting an act of harassment, defining and recognising an act of harassment can be problematic. For instance, what might seem like harassment to one person might be seen differently by someone else. If harassment is ultimately defined by the person making the claim then isn't there the potential for countless misunderstandings, unpunished crimes and even deliberately bogus accusations?
An act of offensive and demeaning behaviour towards another employee becomes fully-fledged harassment once the culprit continues to harass and bully despite having been informed that it is unacceptable by the victim. Once the harasser is aware of the harm they are causing, then the act becomes deliberate and should be dealt with. This allows a person who harasses somebody unconsciously, unaware that their behaviour is upsetting that person, to stop before the matter is taken up with a third party.
The Responsibility of Employers
It is the responsibility of the employers to prevent harassment at work and so they should make it clear to everyone that such behaviour will not be tolerated. It is also in their interests, because the bad employee relations, low morale, poor performance and loss of staff that characterise harassment problems cost businesses money.
You might also like...
IS indifference by a manager classed as harrasment, she never speaks to me, never asks about deadlines, training, sick or holiday cover, shows no interest in me whatsoever, does not even know i trained my colleague, when she does speak it is an demeaning manner, not particulary horrible but totally indifferent
ALEX
- 16-Jul-14 @ 3:02 PM