How Story Telling Techniques Can Put a Message Across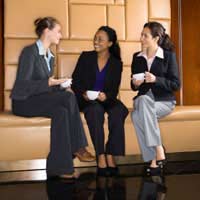 Putting a message across at a meeting can sometimes be hard. The audience may have other things on their minds. Or they may be keen to return to their desks and continue working.
Being clear about a message helps. But even then, people may not listen. This is why many business speakers and managers use storytelling techniques.
Emotion
A good story creates an emotional link between the speaker and the audience. This is because people enjoy storytelling. Most of them seek it every day. They read books, listen to radio plays and watch TV dramas.
Stories engage emotions. They make people laugh or cry. They maintain a state of suspense until the final page or closing credits.
In the mouth of a manager or business speaker, a story can immediately attract the interest of listeners. A story can provide excitement or light relief to an otherwise dry topic.
Point
A story must have a point, though. It must build to a climax and reach a satisfactory end. This end should relate to the speaker's message.
The speaker must also ensure the end of a story produces the desired emotional reaction. If the speaker intends a story to be funny, for example, the audience must laugh. Such a story at the beginning of a presentation is a good ice-breaker. It helps settle the audience and encourages them to listen.
Other types of story inspire audiences. A tale may be about a person who rises to a difficult challenge, overcomes obstacles and finally succeeds. An inspirational story of this sort gives a clear message that leaves an audience feeling determined and in a buoyant mood.
Concise
No matter what message a story conveys, however, the way of telling it must be concise. The speaker should introduce the characters and situation without delay and not wander off the point. There should be no superfluous detail.
Present Tense
The speaker should also think about the tense he or she uses. Storytelling can be more effective in the present rather than past tense. The present tense suggests the story is happening now. The result is greater suspense.
An example of the past tense is as follows: 'Julie walked along the station platform, picked up the brown case and boarded the train'. A version in the present tense would be: 'Julie walks along the station platform … she picks up the brown case … she boards the train'. In the present tense, simple actions have more interest.
Modulate the Voice
When a speaker tells a story, it 's unwise to adopt different accents for the characters. Only someone with acting experience can really pull this off. Nonetheless, it's good to modulate the voice.
Pausing, raising the voice and lowering it create interest in a story. An audience responds well to these techniques. They appreciate the fact that the speaker is making a story more enjoyable.
Body Language
Professional storytellers use gestures and facial expressions to give depth to a story. Again, it's unwise for a speaker at a meeting to overdo such gestures and expressions. But a limited use of them encourages an audience to pay attention.
Rehearse
Any speaker who is new to storytelling should rehearse. One of the best ways of doing this is to a video camera in private. The speaker can then replay the video on a computer monitor and judge the story's success.
You might also like...