Improving Staff Morale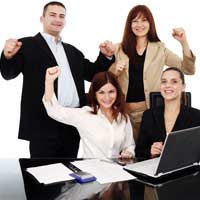 Low employee morale should be a big concern for any employer. It's a poisonous force that can have a corrosive effect on the productivity, profits and general well being of an organisation.
Positives of Improved Staff Morale
Employees are hugely valuable company assets that need keeping in tip top condition if they are to function effectively. They need challenges, a sociable environment, job satisfaction, recognition and financial security otherwise their morale drops, their work suffers and the company ultimately bears the brunt.
Surveys have shown, for example, that there is a direct correlation between the morale of staff and one of the biggest problems facing the UK industry - absenteeism. Through the financial costs associated with arranging overtime, cover, reduced productivity, lost client relationships etc, the Confederation of British Industry estimates UK employers lost around £13.2 billion last year due to absent employees.
Maintaining a happy and well oiled staff is not just about saving the company from ruin, a motivated workforce is also a valuable business asset that will push you ahead of the competition.
What Motivates your Staff?
How can your boost the morale of your workforce? First you must consider what motivates your staff.
Each employee is different. Whereas one might be motivated by targets and rewards, another might be content doing the same menial job just as long they can do it in a sociable working atmosphere with access to a decent coffee machine.
Communicate with your employees to find out what makes each of them tick. Even this exercise alone is an important first step in improving staff morale because all employees like to know that their employers are listening and taking note of their opinions.
Staff also like to feel that all their hard work is not going unnoticed and open communication and appraisal between staff and management is important factor in employee motivation.
Varied, Interesting and Responsible Work
One of the key areas to address is the work itself. Although some staff may welcome monotonous work because they can 'switch off', most don't and need to be stimulated with varied, interesting and responsible duties. Otherwise they become bored and apathetic, and as their morale droops the work suffers.
One way of keeping the work varied and interesting for staff is to introduce a work exchange scheme where employees swap positions with someone from a different department for designated period. This will not only help broaden their skills but also their understanding of how the company works beyond their departmental limits.
Targets and Rewards
Work satisfaction can be improved with the introduction of target and reward schemes. Targets will only suit certain employees and should be agreed with them rather than imposed from above. As motivation, a clear reward should be associated with each target, such as public praise, promotion or pay bonus.
People tend to work best when they know what is expected of them and when their efforts are acknowledged and appreciated - employing such a scheme encourages staff to work towards something rather in an unchanging, anonymous vacuum.
Regular feedback for all staff also plays a vital role in maintaining working momentum. Staff need to know which aspects to their job are showing positive improvement. This could take the form of an informal chat or an annual appraisal session.
Teambuilding and Positive Attitude
As most of us spend so much of our working lives surrounded by, working alongside and socialising with other people, these people have a powerful influence over our morale. Promoting good team relations and attitude is therefore vital in achieving a happy and productive workforce.
In addition to open communication through informal team meetings and discussions, good working relationships and a friendly working atmosphere can be promoted with teambuilding exercises, activity weekends and regular social evenings.
Improved Staff Morale Facilities
If employees are expected to be hard-working and motivated team members then they need to be in good physical and mental shape. Efforts to boost employee morale should therefore include introduction of well being facilities, such as counselling services, fitness programmes and on-site massage. These are valuable for staff going through stress and emotional or personal problems.
Further consideration for the varied and demanding private lives of employees can be catered for with family friendly policies - such as flexitime hours and childcare facilities.
You might also like...
I enjoyed reading the articles. it was very up lifting
Sheila
- 25-Mar-14 @ 1:10 AM