Coping With Your Appraisal Meeting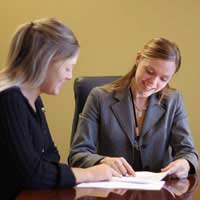 Every six or twelve months, most staff have an appraisal meeting with a manager. These meetings, despite their regularity, shouldn't be a formality. Appraisals can have a direct bearing on an employee's career.
Purpose
The purpose of an appraisal meeting is to review an employee's achievements, difficulties, and progress since the last appraisal, and to consider the future.
Appraisals are not a chance to go over accumulated feedback or concerns. Managers should provide feedback, and employees should express concerns, as and when necessary. Leaving feedback or concerns until an appraisal can sidetrack the meeting.
The Manager's Perspective
It's worth an employee understanding a manager's view of appraisal meetings. This helps build an employee's confidence about the appraisal process.
In brief, a manager should treat an appraisal as a chance to maintain and build the working relationship he or she has with an employee. An appraisal is not an excuse, as sometimes happens, for a manager to simply give a monologue about some work-related topic, and then sign off the appraisal as done. Any employee who experiences this should raise the matter with the manager, or the organisation's HR section.
Plan
Most employees must complete an appraisal form in advance of the meeting. If an employee doesn't receive a form, he or she should ask where it is. Some managers complete the forms together with the employee at the meeting itself. This completely reduces the appraisal meeting's effectiveness.
The form provides an opportunity to plan for the meeting in advance. It's wise to leave plenty of time to fill it in. Some people even take it home and work through it at leisure in comfortable surroundings.
Issues to Cover
The appraisal form may not cover everything an employee wishes to discuss. If this happens, an employee should make separate notes and take these into the meeting.
The form and the notes should cover a series of topics. The first of these deals with an employee's work since the last appraisal. For example, what has an employee achieved, what problems arose, and what effect did these have? Other issues to consider include any initiatives an employee took and their outcome; how an employee approaches teamwork; and the quality and quantity of work an employee produced.
The next subject for an appraisal is employee development. How are an employee's communication skills? What is an employee's attitude to work? What are an employee's strengths and weaknesses?
With such questions, it is likely that an employee has a different view to a manager. Nonetheless, this mustn't stop an employee noting down his or her opinion. If an employee can support this opinion with workplace examples, so much the better.
The final topic is about the future. What are an employee's goals at work, for instance? What training would be useful, and how does an employee see his or her career progressing? Professional development should be part and parcel of any appraisal. An employee should therefore have a clear idea of what he or she wants before attending an appraisal meeting.
Two-way
At the meeting itself, what transpires should be two-way communication. In other words, an employee should have as much input to the meeting as a manager.
This isn't easy for staff who are unused to talking to a manager in such close proximity. The appraisal form and notes can act as triggers, however, for the next discussion point.
This can help maintain an employee's confidence. After all, someone who has one appraisal a year may feel intimidated when faced with a manager who holds dozens of such meetings.
Preparation, though, is the key. Planning ahead, and noting all relevant issues in advance, can ensure that an appraisal is a worthwhile exercise.
You might also like...