Using a Critical Path to Improve Communication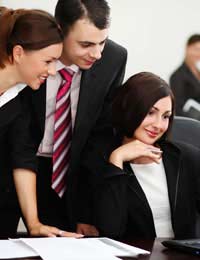 Anyone responsible for managing a large project at work faces a tough challenge. This challenge becomes even harder if the people involved in the project don't know exactly what they have to do and by when.
Keeping people up to date with project duties and responsibilities can be exhausting. But a failure to let everybody know the necessary details can prove disastrous. A project may overrun its allotted time and the cost may exceed the original estimate.
What a manager needs is a communication tool that ensures all project members are aware of:
Every task
The start date and end date of each task
Whether or not each task relies on another
With such information, a project becomes easier to control. This is when a critical path can help.
Definition
A critical path is a series of events that carry a project forward from start to end. This series of events is the path that every project member takes to finish the project on time and on budget.
Before a Project Begins
Before a project begins, the manager should create a critical path. He or she must then explain it to all relevant parties.
All parties should have a chance to comment. The manager must note the comments and adjust the critical path accordingly.
Columns
A critical path is a series of columns on a piece of paper. The first column lists all the tasks necessary to complete a project. The task descriptions must be concise. If the descriptions use jargon, all project members must be able to understand it. Each task should have a letter by it in alphabetical order: A, B, C, D etc.
The second column has the start date of each task. Start dates may be provisional. The project manager may need to change them as the project moves on. But the initial dates must be as realistic as possible.
The third column notes the time each task should take. This may be anything from a matter of hours to several weeks or even months. As with the start dates, the project manager should ensure all team members agree the timescales.
The fourth column has one of two words in it: "parallel" or "sequential". A parallel task is one that can take place at the same time as another. A sequential task is one that relies on the completion of a task already listed before anyone can start work on it.
The final column takes the issue of sequential tasks a stage further. If task F, for instance, cannot proceed until someone has finished task E, the project manager marks the column with an "E".
Constituent Parts
A critical path breaks a project down into its constituent parts. It helps the project manager analyse the work that lies ahead. And it allows team members to work out what resources they need to complete their part of the project on time.
Consequently, each project member must have a copy of the critical path. It can then be the basis of meetings about completed work and adjusted time frames. In this way, a critical path maintains clear communication and helps ensure a project's success.
You might also like...