The Dos and Don'ts of Job Interviews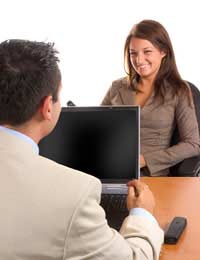 Job interviews are a minefield of dos and don'ts that can derail even the most promising candidate's bid for success. Understanding and respecting them is the key to getting the job.
Success in Job Interviews
Often there is little to choose between potential job candidates. With several candidates all boasting the necessary skills and experience how can you possibly decide which one is the right person for the job? The job interview provides an opportunity to move ahead of your competitors. The many dos and don'ts of interviews are what push your forward and pull you back, and understanding them is the key to achieving success.
Preparation
Although first impressions count, they are not the be all and end of job interviews like many think. Much more important is what goes on before you even enter the room - the preparation.
Don't skimp on preparation. Thorough preparation gives you the necessary knowledge and confidence to wow the interviewers whilst giving them the impression that you are serious about the job. Don't just dust down your CV and give it the once over, think carefully about all the aspects of an interview that you could improve by doing a bit of homework first.
Research for Job Interviews
Don't leave your journey plans to the last minute. Research your route to the interview beforehand, and even practice it. This will make sure you are not too early or late and may save turning up all flustered after making a transport miscalculation.
Rather than leave it to chance, check all the facts about the interview in advance so that you know what to expect. This way there'll fewer nasty surprises and you'll feel more confident. For instance, who will be interviewing you - will it be your potential manager? How many interviewers will there be? How long will the interview last? If you have applied for the job through an agency then ask them.
Why do you want the Job and What Attracts you to the Company?
Get hold of a full job description and profile so that you know what the role is that you want to fill. How can you demonstrate your suitability for the job if you don't know what it is?
You also should understand who the organisation is and what they actually do by researching their services, markets, competitors and trends. Don't forget that you may be competing against an internal applicant, so a display of good knowledge and awareness about the company will limit their advantage over you.
This information will prove useful when you're asked the inevitable questions about why you want the job and what attracts you to the company. You may be attracted to the job because it's similar to your current role but pays better, but don't say that. Use the job description to identify specific perks of the job itself. These could include greater responsibilities, more involved in project work, opportunities for managing staff, for example.
What positive aspects of the company appeal to you? Is it more forward thinking in its outlook, a bigger player in the market place or well respected for the quality of its service, perhaps?
Positive Communication
Another common job interview question that you can prepare an answer to is why you want to leave you current job. It may be that you were bored to tears by the work and hated your manager but don't say that. You should never criticise your current employer or manager otherwise you'll come across as a negative troublemaker. The interviewers will want to hear positive terms like progression and development. So you might say that after being in your current role for a few years you now want some new challenges and extra responsibility.
Competency Communication
A regular feature of the modern job interview is the competency-based questions. These are designed to show how well a candidate can perform in different situations and what they're learnt from their experiences. An example would be how you've had to settle a dispute between colleagues.
In preparation for these questions formulate a series of examples from your past experiences – not necessarily just in the workplace – where you have dealt with difficult problems.
Interviewee Questions at Job Interviews
Although it may seem like merely a polite way to conclude job interviews, the 'any questions' stage is actually an important one. It is at this point that you have an opportunity to not only help determine whether you really want the role, but also show the interviewer that you are well prepared and interested. Therefore don't ask routine questions but try to impress. For instance, how do you see the company developing over the next couple of years or what opportunities are there for development?
You might also like...