Advice on Selecting Candidates for an Interview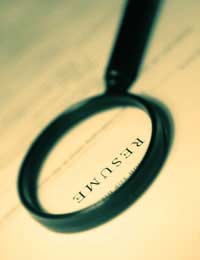 The process of sifting through stacks of job applications to select interview candidates is a crucial one that requires due care and attention, otherwise you'll end wasting time interviewing unsuitable candidates.
Importance of Interview Shortlisting
A thought that must pass through the heads of many viewers watching television programmes like the X-factor is why judges waste their time watching the auditions of talentless people who haven't got a hope in hell of making it through to the next round. What they need is some better advice on selecting on their interview candidates!
Of course television is a different world – and one which has baying audiences to think of – you couldn't get away with such behaviour in the working world. The shortlist of candidates chosen for interview – or more detailed stages of the selection process - should be a streamlined selection all boasting the key requirements for the position you're recruiting for.
Advice on Application Sifting
To sidestep any chance of bias – such as discrimination or stereotyping - the sifting process should be carried out by at least two people. One should be the direct line manager or supervisor for the job whilst the other is usually a member of personnel. Some companies have a human resource specialist who is skilled in the art of sifting and shortlisting.
It is recommended that the shortlist comprises of between six to ten CVs for the first round of interviews – although this might depend on how many CVs you receive matching your specifications and the number of vacancies. As you will inevitably lose the odd candidate along the way because of cancellations it is sensible to pick out a couple more than you really need.
Advice on Key Person Criteria
Before tackling the pile of CVs it's advisable to first draw up a list of the key criteria for any successful application. Each CV can then be rated in accordance with these standards, and to make the process easier a simple scoring system could be introduced. Nevertheless, with any selection process there are often anomalies that don't match the specified criteria but who still offer a lot of promise. It is important that some flexibility is introduced so that such a person is not overlooked.
Advice on Technological Assistance
Technological innovation is doing its bit to ease the process of shortlisting interview candidates. For instance employers that utilise online recruitment facilities are often bombarded with applications from completely unsuitable candidates, and there are now features available that will save time by automatically discarding these entries.
Advice on Online Questionnaires
It is increasingly common for questionnaires to be built into the internet application process. These can either be adopted for selection or self-selection purposes.
The latter is a means to help potential candidates decide whether they would be suitable for the vacancy by asking them to answer a series of questions relating to the position. This not only saves inappropriate candidates from wasting time and effort by applying but also the employers from being inundated with unsuitable applications.
Selection questionnaires are a kind of electronic version of the criteria lists used by many human CV sifters. They ask potential candidates a few key questions about their experience, qualifications - or even factors such as whether they would consider relocating or working shifts - before allowing them to progress to the next stage of the application process.
You might also like...