Interview Communication Techniques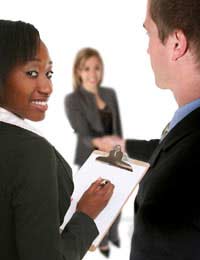 Good communication, both verbal and physical, is the key component of any successful job interview. Here are some interview techniques to help you project your best.
Projecting the Ideal Candidate
As a nerve wracking and uncomfortable experience for most, interviews are hardly conducive to good communication. But unfortunately that is just what job interviews are all about – projecting oneself as the ideal job candidate with the help of both physical and verbal communication. So what techniques can we use to help project that ideal as best we can?
Attitude and Character
The interviewers will not only want to choose a candidate who is qualified to take on the job but who will fit well into organisation and be liked and respected by employer and colleagues. They will therefore be paying close attention to your character and attitude as much as what you say.
A good candidate should make every effort to sell themselves. You should act confident without being arrogant and over familiar and, although it can be difficult in such a pressured environment, it's important to be natural and yourself at all times. The interviewers will quickly spot someone who is pretending to be someone they're not.
They may be looking for a 'real person' but that's no excuse to start divulging your personal life without any prompting. If they raise the question of your interests and hobbies outside of work then mention things that would show your ability to carry out the job.
Body Language
We might not be aware of it at the time but our body language has a major part to play on how people first perceive us.
When people think about creating a good first visual impression then they naturally think about appearance – and it is important to create a positive impression in interviews by dressing professionally whatever the position. But more important than that is how people use different body language to communicate and create an impression.
When first entering the interview and being introduced to the interviewers you should give them a firm hand shake and look them in the eye. It is also a good idea to repeat their name – such as in 'pleased to meet you to Michael' - as this will help you remember it. It is vital to keep up eye contact throughout the interview and not exclude any of the interviewers in your attentions.
A common analogy for the impression your body language should project during the interview is that of the swan. To the outward eye you appear open, proud and graceful whilst underneath the surface there is frenetic activity. With this in mind you should sit up straight, keep your head raised and not close yourself off with crossed arms and legs.
To create an intelligent and trustworthy impression you should try to keep hand gestures to a minimum. Somebody that is wildly gesticulating is often perceived as 'leaking emotion'. The problem is that if you are prone to hand gestures or fidgeting, the interview nerves will likely make your condition worse. A good way to control hand movements is to press your thumb and forefinger together. This help release tension without drawing attention to your hands. If it's a real problem then before the interview you could try the stress-relieving technique of clenching and stretching your hands and then shaking them out.
Communication Interview Techniques
Another common habit that doesn't go down well with interviewers is that of 'umming and erring' when thinking. Don't feel that you have to answer a question immediately - there is nothing wrong with a few moments of contemplation. In fact many interviewers are more dubious about those that do answer immediately all the time because it's a sign that they're simply parroting prepared answers.
A great technique to ease the silence following a tricky question is to take a sip of water. This helps relax you and provides a few extra moments for you to deliver a decisive answer.
You might also like...