How to be a Good Team Member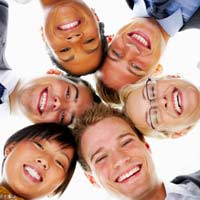 Working as part of a team can be a rewarding experience but only if everyone plays their part well, otherwise it can be frustrating and even downright miserable.
A tight and cohesive team propelled by talents all working in harmony together towards a single goal can be an amazingly efficient and productive unit. However, any team is only as good as its constituent parts. If any links in the chain are, for example, uncommunicative or cavalier with their responsibilities, then the whole unit will come crashing down to earth.
It is vital that each member of a team is able to demonstrate an appreciation of what makes a good team player and uphold those requirements. A good team member should for instance:
Recognise and be committed to the team's objectives.
Understand their individual responsibilities within the team.
Be able to communicate clearly with each member of the team.
Be able to listen to the opinions of other members.
Treat other members of the team with respect.
Understand the different behaviour, motivations and skills of other team members.
Communication
The foundation stone of all good teams is excellent communication skills between leaders and members. When ideas are being voiced, instructions passed on and errors highlighted then clear, direct face to face communication is essential.
Feeling out of the loop, bemused or misunderstood are sure signs that communication links have broken down. This situation will only result in frustration, ill feeling and ultimately botched work.
As a team member it is important that you maintain an attitude of open communication at all times otherwise you isolate yourself from the group. Use meetings to communicate your ideas, opinions and queries to the group and don't be afraid of talking to a team mate if you are unsure about something or need support.
Listening, Discussing, Questioning and Understanding
Communication is not all talk – in fact it involves more listening. Listening to and understanding other people's ideas and opinions and is a key skill in effective team relations. If you don't give people your open ears, undivided attention and respect then effectively you are putting up walls within your team.
A good team member should have a good sense of self-awareness and not only encourage ideas from others but also welcome feedback on their work and behaviour.
Respect your Colleagues
Professionalism and respect for your colleagues is demonstrated by refusing to blame others for your own mistakes. A good team player will use the team rule of open communication to acknowledge and apologise their own failings. By blaming somebody else, you not only appear cowardly but are corrupting team spirit by trying to alienate members of the group.
Getting Involved
Although there may inevitably be fairly long periods of time when you are chained to your workstation slaving away on your own it's important not to forget you are part of a team. Team membership is all about cross-pollination – sharing ideas, suggestions and solutions – offsetting one anothers strengths and weaknesses to form a combined greater good.
Always be available to offer support and advice to other members because you'll inevitably find yourself in need of help in the future.
You might also like...