Creating an Effective Team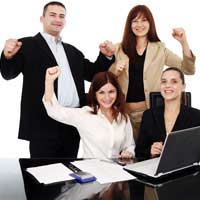 Creating an effective team is a tricky task that demands care and attention, but the effort is justified by the success it yields to both the organisation and the individual.
The Difficulties of Team Building
With all the respect, authority and power it commands, being responsible for a managing a team should be a great job. However, the job of creating an effective and harmonious team can actually prove quite a headache.
Team building is so problematic because people are difficult. As independent entities they have their own temperaments, moods, motivations and working methods and as such uniting them can be formidable task.
What Makes a Good Team?
In essence, a good team is a cohesive unit of people all working together towards a common goal. That's all well and good but if, for example, your team is an unproductive, directionless mob, troubled by complaints, arguments and apathy then what is it this so-called 'good team' has that sets it above and beyond yours?
This good team works effectively because it:
Encourages direct face to face communication.
Motivates the team with a clear focus on targets and results.
Rewards both the team and the individual.
Promotes out of workplace socialising.
How to Begin Team Building
So how do you go about achieving this dream team? Firstly you need to think about the fuel that keeps a team ticking over - motivation. What actually motivates people in the workplace?
Beyond the basic survival motivations of keeping yourself fed, watered and sheltered etc, people are motivated by things that improve their mental well being by making them happier and more positive. In the workplace these 'motivators' could include team spirit, goals and being praised for you good work.
You need to think about how you can introduce these and other motivating factors into your team activity. For example, you could introduce regular team meetings where individual achievements are highlighted. The meeting could also be used to collectively map out future plans for you team. This would not only be a way to introduce motivational goals but also make the team members feel that they are involved in the running and successes of the team, and that their views are respected. There a few things more de-motivating than having no input whatsoever and having a manager decide everything on your behalf.
Finally, you could help instil some team spirit by organising a regular team social activity such as volleyball. Team activities outside of the workplace are also useful in cultivating a more focused team unit.
Relationship Team Building
A good way to clear the slate with your team and start afresh with new goals and philosophy is to organise a social team building activity. This should suit all members of the team and could be an activity weekend, a camping trip or a trip to a team building workshop. What is important is that it encourages your team to get together outside of work, get to understand one another better and forge new alliances and, of course, have fun.
Assessing Team Roles
One of the biggest difficulties faced by a team manager is in dealing with such a broad spectrum of personalities. However, rather than moan about it, a good team leader will use this to their advantage. By recognising the different strengths and behaviours of each of your team members you can delegate people for their ideal roles and thereby use the diversity to create a tighter more well balanced team. Understanding a person's tendencies also enables you to both predict and deal with them more effectively.
For example, one member of your team might be a real perfectionist who is great with the small details but who needs direction and to be shown their appreciated. Another might not have much initiative and a ready supply of ideas, but who is a real social marvel and great supporter of people. And there might be someone who is valuable as a problem solver but not so good at getting jobs done.
You can assess the personalities of your team members by studying them or you can employ the services of a specialist questionnaire.
Team Building Ideas
As a final guide, here are a few ideas worth bearing in mind when attempting to craft the perfect team:
Regular and small informal meetings where communication from is encouraged will build relationship trust between staff and promote new ideas.
Team members must always know exactly what their objective is.
Don't allow staff to become complacent – pushing their capabilities will help their skills to grow.
When setting a goal let them figure out how to do it. It's positive when a team get enthused about a new challenge and makes it their own.
Always remember to encourage, inspire and praise your team.
Don't expect immediate acceptance.
You might also like...