My First Presentation: A Case Study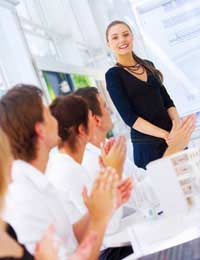 After working with her employer for three years or so, Georgina Bell had what she describes as the biggest challenge in her career to date. The managing director asked her to make a presentation on behalf of the company to a conference in Southern Europe.
Initial Reaction
"I was delighted when the managing director asked me to make the presentation. It clearly showed he had confidence in me. But I was also very nervous. After all, this wasn't a presentation in front of my work colleagues, but at a major industry conference. What's more, the managing director would be in the audience, expecting the best from me.
"Luckily, though, I had five weeks to prepare. This was important to me, because I wanted to have everything covered. I wasn't going to leave things to the last moment – or 'wing it' as some of my colleagues advised.
Preparation
"I had never given a company presentation before, but I knew from my University days that I had various tools available: presentation software, video, audio, and so forth. The company had all these available, but from the outset I decided on a simple approach. I wanted to concentrate on facts and figures, and support these with a handout and slides.
"Before this, however, I checked on the language issue. The conference was in Southern Spain, and drew together people from all over Europe. I therefore rang the conference organisers and asked about translation facilities. The organisers told me to present the conference in English, and to provide my notes two weeks beforehand. They would then translate the notes in advance as necessary.
"This was the first major worry sorted out. I then wrote out a series of headings for the presentation. I did this – and all my other writing – at home because the office was too noisy and had too many distractions. The managing director had foreseen this, and gave me a couple of days off to help.
"With the headings in place, I wrote a first draft of the full presentation. The length was thirty minutes, and I wasn't at all sure how many words would fill this time frame. So I put down everything I wanted to say, and read it aloud.
Dummy Run
"Half-way through reading aloud, I stopped. I wasn't happy because I felt I was rushing to meet the thirty minute deadline. I also wasn't convinced that I was communicating in a suitably calm and professional manner.
"This may seem as though I was worrying unnecessarily. But I knew I needed to build up my confidence otherwise I didn't think I could step up to the podium when the big moment arrived. I therefore set up a video camera in my living room, and addressed it as though it were the audience.
"Once I had finished, I felt things had gone well. I don't find it easy watching myself on video, but I plugged the camera into the TV and ran through my dummy run of the presentation. After a couple of minutes, I began to take notes, because it was clear that some of my text didn't flow as well as it could. The good news, however, was that I didn't need to cut much out: the video ran for just over thirty minutes.
The Presentation
"I really can't recommend this method of preparation enough. Standing in front of a video camera and pretending to be at the conference itself was great. The experience built my confidence: highlighted problems with the points I was making and the style in which I was communicating them; and enabled me to meet the time frame.
"The slides I created following this were simply a reflection of the headings. And when I supplied my text to the organisers in advance, I knew that I wouldn't need to change anything at the last minute.
"I gave the presentation, and I was happy with the result. The managing director was pleased and introduced me to various industry figures at the party after the event. He then asked me if I would return next year to represent the company once again. So I guess things went well!"
You might also like...