What Makes a Good Manager?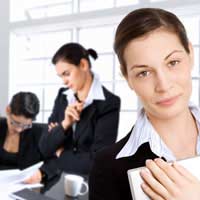 Managing a group of people is something many fear, but to others it is second nature. So what is it that makes a good manager?
Communication and Interpersonal Skills
Good interpersonal skills are what most people think of first when conjuring up the perfect manager. For instance, the ability to work with, lead and motivate staff, improve their morale, earn their respect, influence their actions and productivity are all key aspects to the job. But it's not just limited to their staff - a good manager must also display their interpersonal skills in their dealings with other employees, managers and clients as well.
In the today's workplace the modern manager is also expected to take on a more holistic view of their members of staff, in thinking not just about oiling each cog that powers the machine, but the individual as a whole – their training, career development, attainment of goals and lives in and out of the workplace.
Commanding Respect
It's a myth that managers have to be all smiles with their staff in order to be successful. If you think of any well-known successful managers, from football manager Alex Ferguson, celebrity staff Gordon Ramsey to fictional crime boss Tony Soprano, then you'll notice how they're their personality isn't particularly likeable. What they have in common is that they command respect because no one can deny they do a damn good job. Characteristics that are much more valuable than friendliness are fairness and approachability. Of course, there's no harm in being friendly with the staff every now and again just as long as they know when it's time to get serious.
Good Communication
In the modern fast-moving and ever-changing workplace it is vital that employees are made aware of what's going on around them and how it affects them. The manager's role is to keep staff 'plugged in' by acting as a conduit and interpreter for everything important that is going on in the business and the industry as a whole. In the opposite direction, the manager must also keep the organisation informed as what the group is up to. A successful manager is therefore also a spokesperson with their finger pressed firmly on the pulse of the company.
Good Understanding
In addition to being a conduit of information, a good manager is also a source of information. They must know and understand everything that's going on inside and outside of their group. If staff are to respect their superior and be able to go to them with queries then they must understand their job; the role they play, the business they working for and the sector in which they perform.
Often employees lose faith in their managers because they're not convinced they know what they're talking about. It's all well and good if they can diffuse conflict within their team but if the business hits crisis point then do they know what happening and what needs to be done to reassure the troops, or are they left hanging, just waiting for instructions from on high?
Change Management
The modern manager must not only be able to understand and communicate the changes that will constantly buffet an organisation but also manage them. Whereas many managers fear change and are always playing catch up, a good manager will not only be able to stay on top of it but anticipate it. It is said that many top executives consider change awareness and management as the number one skill of a manager.
Natural Management
The essence of being a great manager is not something you learn from a textbook, it's a part of your personality make-up. A good manager is strategic, decisive, organised and a natural leader. If you are a naturally an impulsive, indecisive, disorganised person who likes to lurk anonymously at the back then no amount of corrective coaching will teach you otherwise. Ultimately there are those managers who act the part and those who are the real thing.
Nevertheless that's not to say that anybody that isn't naturally qualified should stay away from management. Almost every job has a 'managing' element – where tasks are completed through others - particularly as you move up in an organisation and there are practical management skills that anybody can develop and will prove invaluable in progressing through their working life and day to day life.
You might also like...
Hi, Thanks for the work you've put into this site. I really appreciate the help it offers and the resources it puts at our disposition. I wish you and your sponsors great success.
Bugsy
- 14-Mar-11 @ 10:55 AM