Avoiding Stress in the Workplace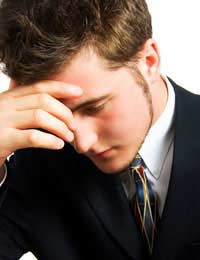 Sick leave, high staff turnover and poor performance are all symptoms of stress and with 1 in 5 employees stressed at work the damaging effects on organisations are huge. But what can be done to avoid workplace stress?
Avoid Workplace Stress and Reap the Benefits
Stress has become a major headache for the UK workplace. The effect of putting in the longest working hours in Europe has help create an irritable and beleaguered populace showing all the signs of short temper, anxiety, headaches and depression that characterise stress. Those extra hours being put in are being completely offset by the number of days taken off as a result of stress-related illness. During 2006/7, almost 14 million working days were lost due to stress, depression and anxiety.
As the work environment clearly has a large part to play in the damage that stress causes with not only employee health but the performance and productivity of team and company, what can be done to diffuse its debilitating influence?
Employers can rest assured that the efforts they make in controlling workplace stress levels could have a positive effect on staff:
Work commitment.
Performance and productivity.
Turnover or will to leave.
Recruitment and retention.
If this doesn't provoke decisive action then the Management of Health and Safety at Work Regulations, whereby employers are legally obliged to keep workplace pressure at a manageable level, should prompt at least a minimum response.
Assess the Danger Areas
To begin reducing the impact of work-related stress you must first try to identify the key causes of the problem.
As the victims, the staff will be the main focus of your enquiries. In order to encourage reliable and informed answers – such as the reasons employees give for absence – it is important to first establish a climate of open and honest communication about the subject of stress. Staff should be made aware that you are committed to tackling workplace stress and need their support in order to achieve results.
One of the key manifestations of stress is in the high levels of sick leave. Private interviews with employees who have missed work due to stress-related illness could help uncover more detailed causes and consequently potential problem areas within the company. Discussions with employees as part of performance appraisals could also be used to help determine the specific reasons that are at the root of other such stress-related ailments as low-productivity and high employee turnover. Exit interviews are also a good way to establish why people are so keen to leave. Did that person think they were experiencing excessive levels of pressure, for instance?
Regular team meetings and focus groups are another good communication tool in assessing potential causes of stress, but not only that they are also a way to cultivate a workplace that is more vocal about their work and their problems, and as such can prove an effective stress reliever in its self.
If at any point you are concerned about the frankness of your employees' answers then it might be worth considering introducing an anonymous staff survey.
Management of Stress-Busting Solutions
Once you have amassed enough data on the likely causes of stress in the workplace then the next stage is to develop some solutions. This is the most difficult part because each worker and workplace is different and requires their own set of solutions. However to encourage some positive solutions here are some successful measures that have been introduced:
Employee goal and reward schemes – without sufficient challenges, staff can get bored and consequently stressed.
Policy whereby bosses offer praise and recognition rather than criticism.
Support and advice to help staff deal with changes in the workplace, one of the major causes of stress.
Staff are encouraged to take time outside away from their desks however high their workload.
Overtime is paid for – this helps stop employers taking advantage of their staff.
Flexible working hours to accommodate a different lifestyle and different workload.
You might also like...