What to do When You're Unhappy with Your Boss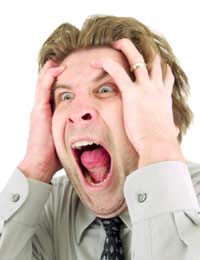 Boss dissatisfaction is one of the chief reasons for employees quitting, but isn't there something you can do about it without resorting to such drastic measures?
Incompetent Management
It is bad enough working with incompetent people, without working underneath incompetent people. With their bungling antics jeopardising your career development and team success, and slashing staff morale into ribbons in the process, they can make working life a misery. With most organisations having an infrastructure in place to weed out the bad eggs, on the whole bad bosses are reassuring rare - or at least short lived – but they do still manage get about and botch up some surprisingly responsible positions. So if you are unfortunate enough to be answering to an incompetent boss, what can you do about it?
There are umpteen things that could characterise a bad boss. They might shun change and new ideas, discourage initiative, reward experience over merit, complain about everything, bungle resources, value their own judgement over everybody else's, be unable to communicate with or just sit back and let everyone else do the work. What this disparate bunch of boss character failings have in common is their ability to undermine the valuable skills you have to offer your organisation.
Complain about your Boss
If it is your immediate boss – such as your supervisor or team leader – that is displaying such troubling character traits then an effective course of action may not be so difficult to muster. You should try talking to their boss. As long as they are not lacking in the requisite management abilities themselves, they may have already noticed that their subordinate is not up to the job, and use your complaint as a prompt to take some necessary action.
Nevertheless, raising the matter with a more superior boss demands a certain degree of care and sensitivity otherwise your protest will come across as a whinge and won't be taken seriously.
You should request a quick chat with a superior – rather than the formal 'meeting' – and calmly explain how you are not being able to perform to the best of your abilities in your current role. When asked why not, then without blaming or undermining your boss, or being aggressive, you should tell them how your relationship with them is proving frustrating and restrictive. Also you might tell them how their behaviour is not only damaging your own work, but also your ambitions and ultimately the company as a whole.
Rebuilding the Boss – Staff Relationship
If taking the matter up on high doesn't have any effect then it may be worth trying to make some headway on the ground. Try to adopt a more positive frame of mind with regards to your boss. Having come to the conclusion that they are incompetent you will see everything they do in a bad light, perhaps unfairly. They may recognise your antipathy and be treating you with equal reserve. Attempt to build bridges with them by establishing friendly and open communication, and a new enthusiasm for your work and team relations. You may be surprised.
However if you find yourself still stuck slumped behind your desk with the same boss looking over your shoulder then as a final gasp before concertedly looking at the job pages, why not first enquire as whether there are any secondment options within your company. There may be positions available in a different department or in a difference office altogether. Alternatively there may be full time job opportunities in other departments, which you would have a head start in qualifying for.
Positives of Looking for a New Job
It's a dispiriting thought but boss dissatisfaction leads so many employees to leave their job not because they cowardly bolt for exit at the first sign of trouble but because there's often not a lot they can do about it. Still an organisation where an incompetent manager is able pursue their role unmolested is probably the wrong organisation to be involved with anyway. One person can't transform the way a whole department operates after all. Instead look on the option of abandoning ship and looking for a new job not as a wholly negative step.
The experience of dealing with a less than perfect boss will have given you a better idea of what to look for in your next job. If your last employer proved frustrating because it was old-fashioned and backward looking in its working methods then try to seek out companies that promote new and progressive thinking. Use the interview to ascertain whether your potential boss would better fulfil your ideals or whether they ring some disquieting bells from your unpleasant past.
You might also like...