How to Disagree with your Boss Constructively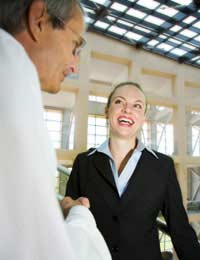 No boss is perfect and will likely get something wrong every now and again. However, disagreeing with your boss can be a dangerous business, unless you do it the right way.
Employee – Employer Communication
Not agreeing with your boss' judgement is a very common employee work complaint. Recent research has shown that almost half of all UK employees regard their direct superior to be a poor decision maker. But as management are not renowned for their ability to take criticism from underlings with good grace, how can we disagree without them taking it as an affront to their authority?
Check the Facts of your Complaint
Before you discuss the issue with your boss make sure you have thought through the issue clearly first – why are they in the wrong, do you have facts to support your argument and what do you suggest as the better course of action? This will enable you to approach the meeting with confidence, and better equipped to achieve your desired result.
Choose Time and Place with Care
As important as what you say is when and where you say it. It is therefore vital to choose your time and place to approach your boss with care.
Your discussion should be carried out face to face – telephone and email are second best in terms of getting a point across and understood – and in private. Raising the issue in front other employees or a potential conflict work environment is not a very tactful and will put you on a back foot before you've even begun.
Timing is also key - try not to choose a moment when your employer is beset by other more pressing concerns but at the same time don't leave it too late otherwise there won't be chance to rectify the problem.
Right Work Attitude
When you are in front of the boss be sure to present your view in a clear, concise and positive manner. Outline the point that you disagree with and the reasons why, before presenting your alternative course of action. It's important not to be negative by arguing the point or attacking their idea, but instead present your suggestion as a more constructive alternative.
Work Professionalism and Good Communication
Ultimately, if you are convinced that your superior is making an error and you know the better course to take then the worst thing you can do is keep quiet and watch from the sidelines as the drama unfolds.
Reassure yourself that any level-headed manager will realise that they don't know the answer to everything and so be pleased when somebody suggests a better way of doing things. In the end it means that the job will get done better. Research shows that the most successful employers all share the characteristic of being open to feedback.
Even if your boss is more the super defensive, hates being told when they're wrong sort who ultimately rejects your suggestion out of hand, take comfort in the fact that in confronting the issue you have demonstrated professionalism and the ability to negotiate in tough work situations. These are valuable attributes that will help you move beyond the limits of your narrow minded work employer.
You might also like...