Taking Responsibility for a Colleague's Error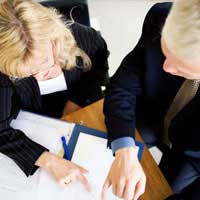 If are accused of an error that was someone else's responsibility then how can you avoid taking the blame without causing a scene.
Responsibility For Someone Else's Error
Being accused of an error in the office that you were not responsible for is a difficult situation that needs to be treated with care.
A natural response is to get angry and vehemently protest your innocence. However, this is rarely the best course of action in most aspects of life and it certainly isn't in the workplace. Here professional etiquette rules, and if you don't deal with the situation in a calm, considered and professional manner then your reputation and relationships with colleagues may well suffer as a result.
Always Maintain A Professional Manner
By acting in an ethical and professional fashion at all times – not only when facing false accusations – you will instil confidence and respect in your fellow colleagues so that when a situation does arise that calls your integrity into question, people will be much more likely to believe you are in the right. In this way you are minimising your potential for blame.
If your general workplace behaviour is known for being somewhat unreliable and erratic then you will likely face a harder task in proving your innocence. If you are not able to support your case with adequate evidence then you may find the benefit of the doubt turns against you.
Also those members of the team less trustworthy will be the more likely targets whenever someone is looking for someone else to blame.
Dealing With The Error Accusation
If you are accused of an error that you weren't responsible for then firstly it is vital that you remain calm and don't adopt an aggressive or defensive stance. When given the opportunity, explain clearly, concisely and logically how you were not associated with the error.
Attempting to sort out the problem in the office, in the company of not only the accuser but of other colleagues in your team is not conducive a clear, considered defence. If possible, then ask to see your boss or supervisor in private and then prepare your facts and evidence in preparation. Your superior will appreciate a mature measured response over the traditional playground tactics of 'he said she said', which will not help your case or your professional reputation.
If the blame is fired at you via email then respond in a similarly calm, considered and professional manner but make sure that you include your supervisor on cc.
Avoid Further Problems
It is vital that the error issue is addressed and put to rest as quickly as possible. As a conscientious employee you should use the situation to demonstrate assertiveness in dealing with problems rather than shying away from them. If you ignore the issue then it will only build up into a bigger problem.
Once the issue has been resolved then it is also vital that your professionalism extends to not bearing any grudges with the accuser or treating them any differently in the aftermath. If they choose to do so then that is something that you must learn to rise above.
You might also like...